History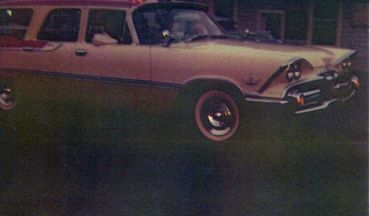 The Fairfield Volunteer Rescue Squad began as the South River District Fire Department and First Aid Crew in 1959, when the members of the Fire Department saw the need for a quick response first aid team for Fairfield and the surrounding areas. Until then, when a first aid crew was needed, a crew from the Lexington Life Saving & First Aid Crew was called to respond from more than 15 miles away. During that time, EMS call volume and the need for emergency medical care was rare.

Once established, the members of the Fire Department purchased a new red & white 1959 Dodge station wagon, which they converted into Fairfield's first ambulance. This ambulance remained in service until the late 1960's. It was well stocked with all the necessary equipment and served its purpose very well. The name was later changed to the Fairfield First Aid Crew when it became incorporated. The membership was still made up of members of the South River District Fire Department.


---
In 1969 the first aid crew took on the ambition of building their own facility. This was done by funds raised by the crew and by a very active and dedicated ladies auxiliary. The building was completed by crew labor and time donated by members of the community in the same year. The Emergency Medical Technician program became the basic curriculum for the membership as more advanced equipment was being used. The number of calls also increased. In 1991, the membership felt that since they were all volunteers, this should be expressed in the crews name. It was then that the crew voted to change its name to the Fairfield Volunteer Rescue Squad. From its beginnings with one Dodge station wagon ambulance to the present Advanced Life Support ambulances, the Fairfield Volunteer Rescue Squad has strived to continuously progress in the services provided to the community.
---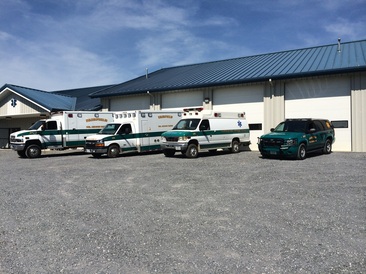 Currently the Fairfield Volunteer Rescue Squad proudly serves over 5,000 people living in an area of 150 square miles. We operate out of one station with 25 volunteer members and provide EMS to northern Rockbridge County 24 hours a day, year round.

The Fairfield Volunteer Rescue Squad is the primary EMS agency dispatched to the citizens of Fairfield, Raphine, Steeles Tavern, Vesuvius, Rockbridge Baths, Brownsburg, Timber Ridge, and Walkers Creek. Our secondary response area includes all adjacent EMS coverage areas on a mutual aid basis. We provide Basic Life Support, Advanced Life Support, Search & Rescue, Community Prevention & Education (First Aid & CPR), and EMS Training Courses (First Responder, EMT - Basic, EMT - Enhanced). We are a member of the Rockbridge Emergency Rescue Group (RERG) and are governed by the rules and regulations of the Virginia Office of EMS (OEMS) and the Central Shenandoah EMS (CSEMS) Council.
---
---
Contact Us

Mailing Address
Fairfield Volunteer Rescue Squad
PO Box 136
Fairfield, VA 24435


Emergency: DIAL 911
Phone: (540) 377-2848
Fax: (540) 377-9034
Email: rescue17@fairfieldrescue.com